In 2020, more than 80% of cars had LED lights. These lights are safer and a style element for cars. Emitting a natural bluish-white color, they are built with a far more technological superiority than a normal halogen car bulb. There are two semiconductors with electrons and when the semiconductors get charged, the electrons bang each other and combine. This creates an array of clear light. The power and density of LED help them to be insensitive to vibrations and shocks while in service.
    We are showing you the differences among halogen, HID, and special LED projector. As we see, there are 3 cars:
2012 version FORD Focus, which adopts original halogen bulb;
2018 version BMW 530Li, which adopts original HID xenon bulb;
2021 version TOYOTA Camry, which adopts special LED projector.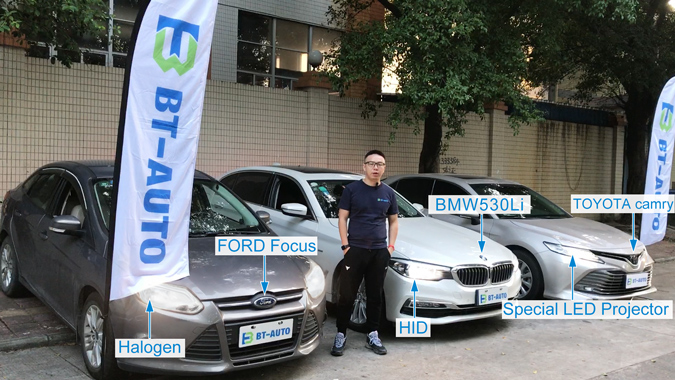 From the following picture, we can see that the halogen brightness is very weak and dim, and halogen color can be yellow only. The drivers' view would be very narrow at night, especially on dark roads, so it's not safe for the car drivers and people on the road. So we normally suggest replace halogen to HID or LED headlight bulbs, it's easy to replace.

    And we can compare HID with halogen, as we can see the BMW 530Li HID, it's much brighter than the halogen bulb(Through our testing, it's about 3-5 times brighter than halogen). White color is the most popular for HID, other colors like yellow, blue, green, pink, purple are also available.

    The Camry's special LED projector is also bright, and it's white too, actually we can also do the yellow or blue color with the specific color LED chips. For this special LED projector, If burned or not work, you will have to change the whole headlight kit in the auto service shop or repair shop, it will cost much.

    With easy installation, competitive price, and high brightness, LED headlight bulbs have become more common now and have exceeded the traditional halogen and HID. They are now being used for mainstream cars, SUVs, as well as trucks. The LED headlight can be adjusted according to the shape and size of the vehicle making it more stylish. Different-looking car headlights attract buyers because these lights are the eyes of the car and also play a major role in the overall look of the car. They provide them with a very modern appearance.
    In European markets, most cars are now fitted with LED headlights and the same is the case in the USA and Japan. Under this development trend, it is quite obvious that you will need a high-intensity car headlight for proper visibility during night driving. BT-AUTO'S X9 LED headlight is a good choice. BT-AUTO is a company that serves auto bulb wholesaler, auto bulb retailer and e-commerce sellers(like Amazon, Ebay, Aliexpress, Shopify, etc. We are specialized in auto LED headlight, auto LED bulbs, and HID products for more than 12 years. BT-AUTO X9 led headlight bulb has big power(60W), small size, standard light pattern, driver built-in, easy installation, CANBUS inside, which is popular now in North America, Europe, Australia, South America, Asia, etc.
    Welcome to inquiry BT-AUTO LED headlight bulb and car LED bulbs.
    BT-AUTO, LIGHT OF HOPE.
---
Post time: Oct-24-2021
Previous: [PRODUCT & ACTIVITY] BT-AUTO Team 2 Days & 1 Night Relaxing and LED Headlight Driving in Furong Mountain
---